JANTON is a manufacturer of outdoor furniture for export. Our history can be traced back to our mother company "Hipstan Rattan" in 1969, we mainly supply all kinds of genuine rattan materials. They are rattan cane webbing, rattan core, chair cane, binding cane, reed, peel, seagrass cord, paper cane…etc.

In the early period, apart from major business of rattan material supply, we also produce furniture by rattan wicker as our side business. We first start up from making furniture components like rush seats, wicker sofa arms, seat and back panels, baskets and accessories items. After gaining years of components making know-how and experience, we fully hand-make the wicker furniture from wicker frame building (bending) to the seat and back cane webbing weaving and paint.

Nowadays, we focus in producing synthetic fiber (synthetic rattan) weaving patio furniture and accessories. At the same time, we retain our tradition of producing genuine rattan indoor, outdoor furniture and accessory items continuously.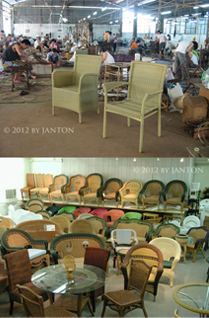 In this website, we would like to present our capability of outdoor furniture production. All items shown in pictures are designed and produced by our own. Apart from our in-house design, we also accept contract order from hotels, resorts, clubhouses, cruiseliners and yachts. We welcome OEM production order if customers have their own designs and ideas.
For any questions related to our products, please feel free to inquire to us.
Our address:
325 Hankow Centre, 5-15 Hankow Road,
Kowloon, Hong Kong
Tel no.: (852) 2367-8001
Fax: (852) 2721-7874
Email: janton@netvigator.com / janton@janton.com